Research-log
'Living Pixels'


This research is mostly open-source to motivated other people to look with a different perspective at our surroundings that we are so familiar with. That's also the reason why I gave workshops to a lot of curious students at The Waag Society. Please send me your own research findings, love to see them!
- Watch the 'Living Pixels' concept here -
This research remains intellectual property of Ingrid Nijhoff. Always mention the (research)project 'Living Pixels - Ingrid Nijhoff' at your own project. Thank you and good luck!
'LEVENDE PIXELS'
22.09.14 MAKING THE INK

Day 01
@ De Waag Open Wetlab Amsterdam
with Pieter van Bohemen & Maria Boto Ordonez

Maria introduced me to the pigmented bacteria Pieter and Maria already made in the Open Wetlab. Then we started to re-plate the bacteria and brewing some new liquid nutrition.

___________________________________________
FOLLOW THE PROCESS IN TIME BELOW



We are testing the following strains:
Micrococcus luteus (ML DSMZ) from DSMZ color: yellow
Rhodococcus coprophilus (RC) from DSMZ color: pink
Janthinobacterium lividum (JL) from DSMZ color: blue
Xanthomonas campestris (XC) from DSMZ color: yellow
Rhizobium etli (RE) from DSMZ color: brown
Vogesella indoferra (VI) from Dr. Simon Park color: dark blue
Arthrobacter agilis (Aag) from Dr. Simon Park color: pink
Chromobacterium violaceum (CV) from Dr. Simon Park color: purple
Dermacoccus nishinomyaensis (DN) from Dr. Simon Park color: orange
Micrococcus roseus (MR) from Dr. Simon Park color: salmon
Arthobacter polychromogens (AG) from Dr. Simon Park color: dark blue
Micrococcus luteus (ML) from Dr. Simon Park color: yellow
The strains will be tested on Nutrient Agar (NA) and Plate Count Agar (PCA).




30.11.14 On television!
INTERVIEW RTL4 KOFFIETIJD :)

20.11.14 - 05.01.15
THE NEW MATERIAL AWARD EXHIBITION
With pride I can say 'Levende Pixels' / 'Living Pixels' is part of the exhibition in the museum Het Nieuwe Instituut at Rotterdam.


Tentoonstelling New Material Award in Het Nieuwe Instituut. Foto: Het Nieuwe Instituut / Johannes Schwartz. Foto: Fred Ernst.

WHAT A NIGHT!
Congrats to the winner Julia Veldhuijzen van Zanten and Fellowship winner Roos Meerman!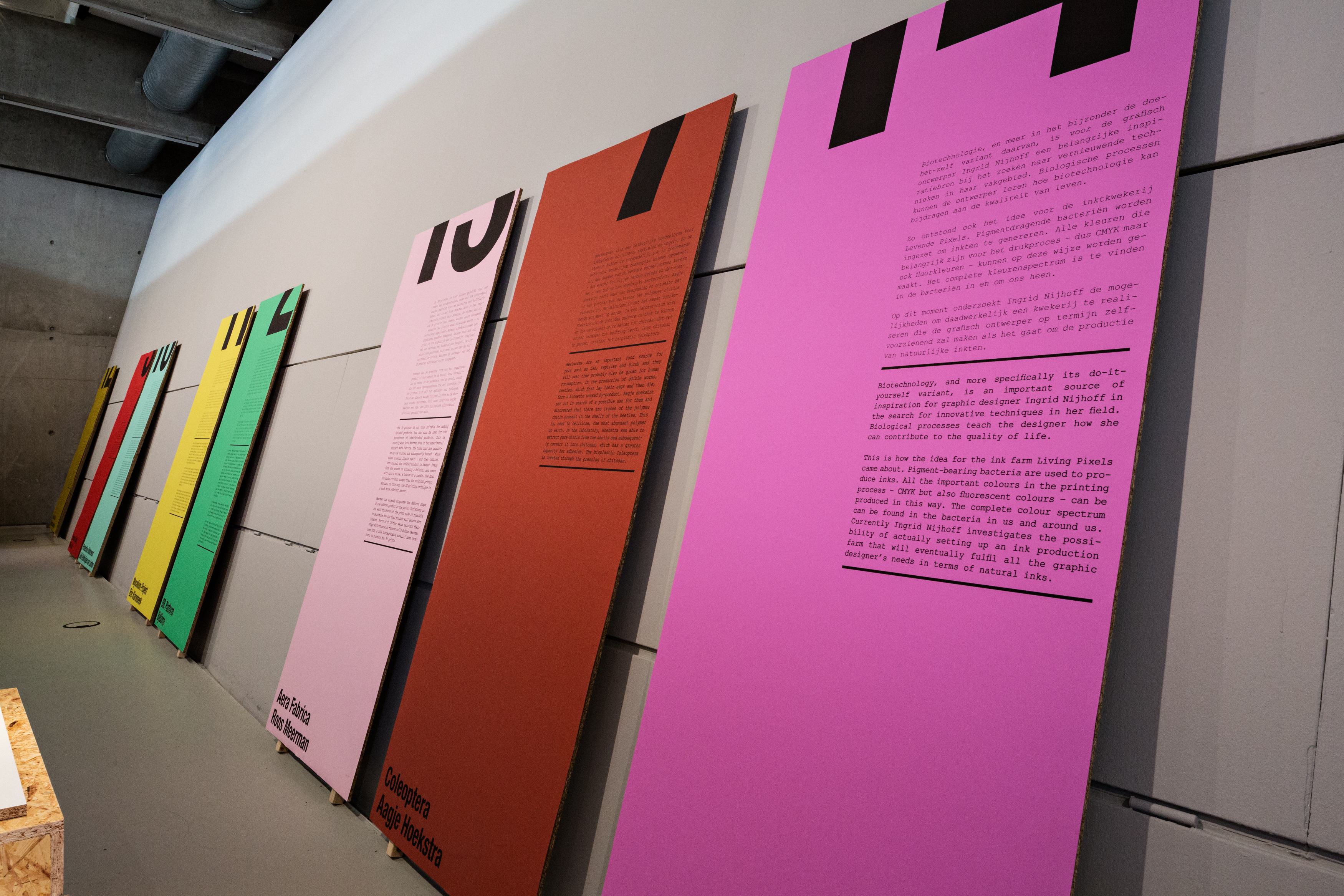 17.11.14 Preparing the samples for the exhibition at Het Nieuwe Instituut - The New Material Award
14.11.14 THE FIRST SILKSCREEN TEST
with Ramon Goedvree at Kapitaal Utrecht, i searched for the last ingredient and made the first test 'living ink prints'!


silkscreen print, testing 1 to 6 layers of ink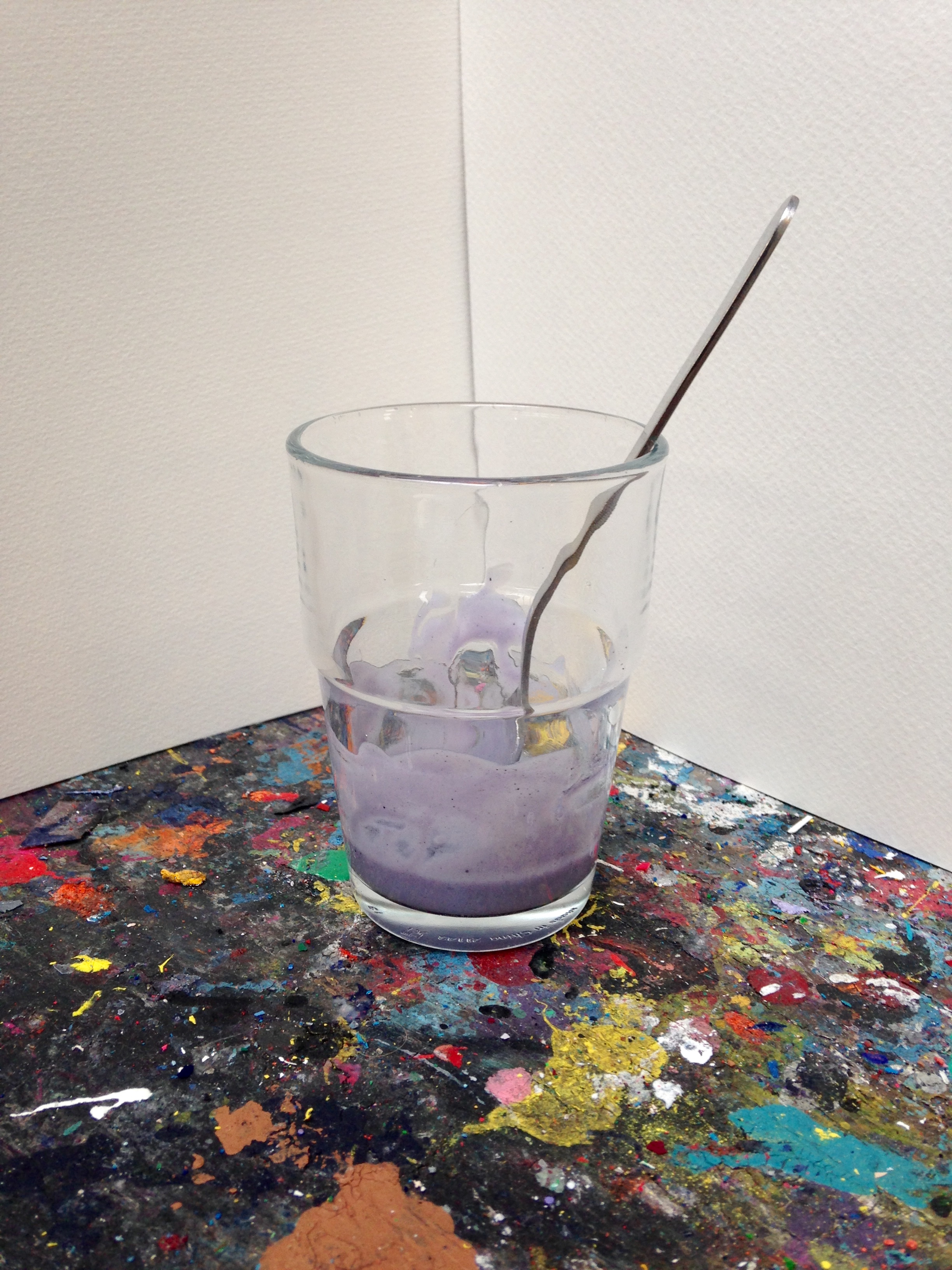 21.10.14 THE FIRST TEST
Writing 'BAC levende pixels'


24.10.14 TESTING THE VIOLET LIVING INK (JL)
21.10.14 DIY TOGETHER - WORKSHOP: MAKING THE BIO-INK & BIO-Paper
at De Waag.
foto: Arne Kuilman, Waag Society


02.10.14 MAKING THE INK
TEST 3: Plates with liquid medium.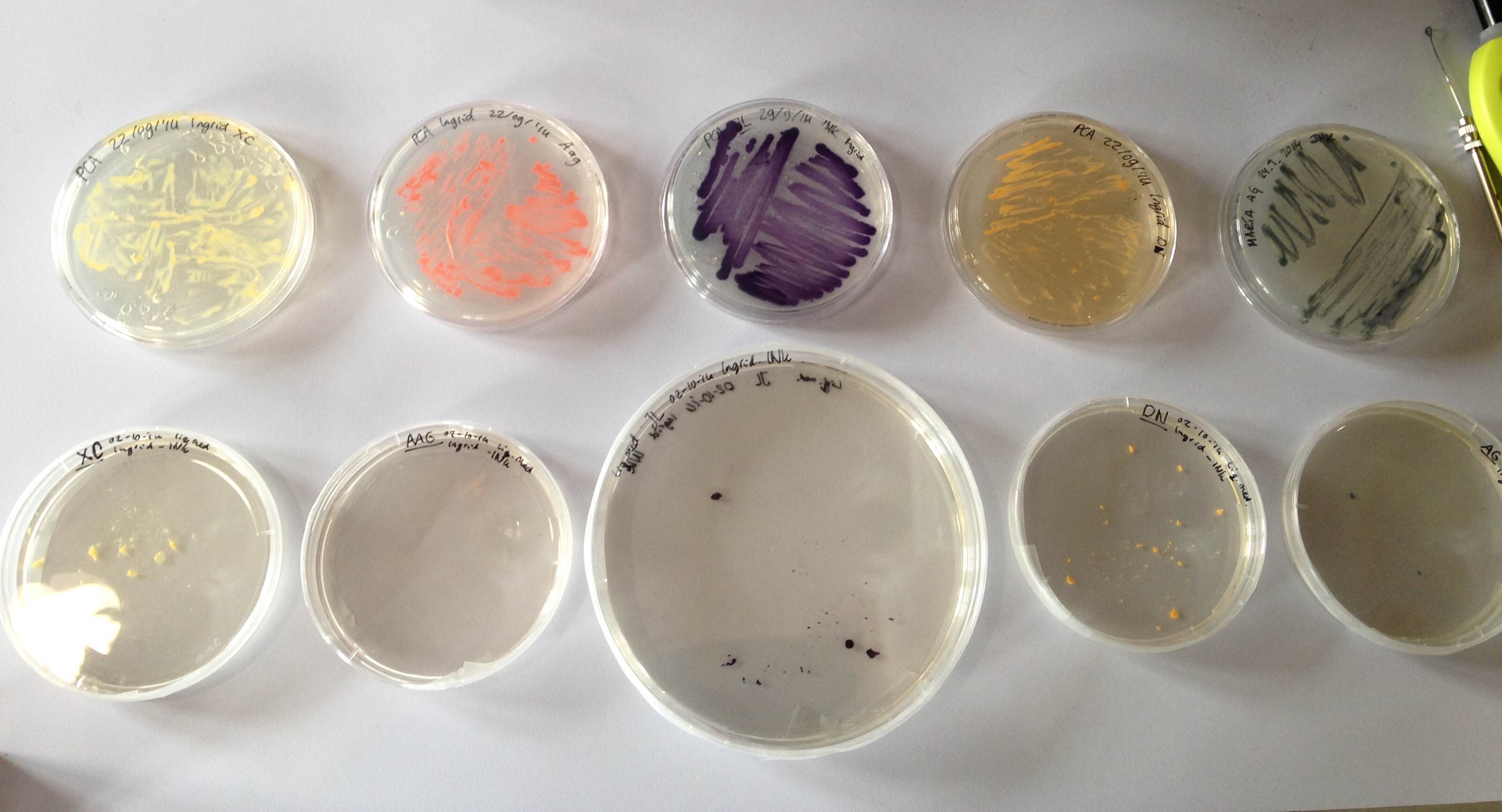 07.10.14 MAKING THE INK
The Violet bacteria created a kind of biofilm with huge amount of pigment.
1. after extracting some pigment

Conclusion: only the violet one grows really good in liquid medium with some glycerol.
next step, look for some 'ingredients' that the other bacteria help growing better.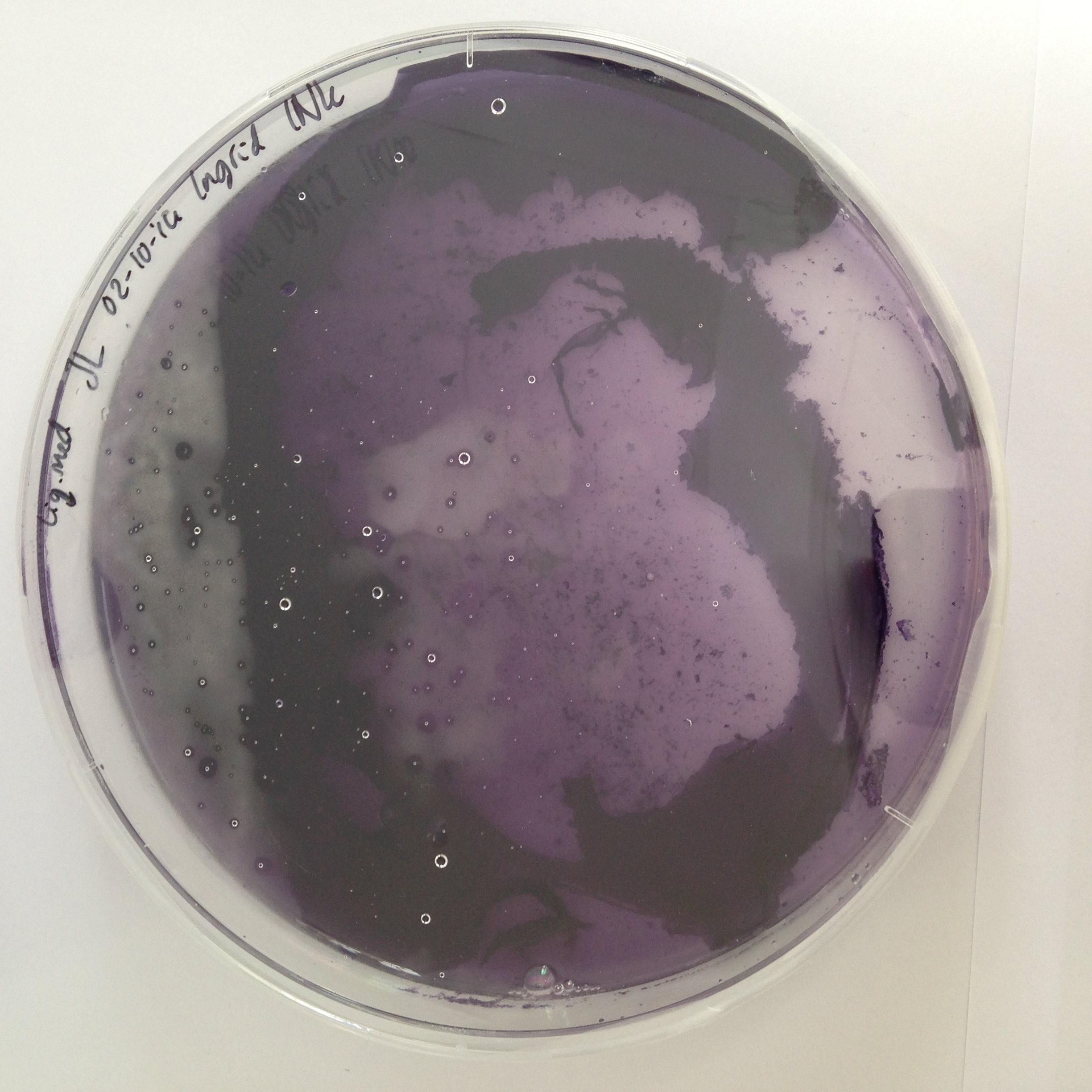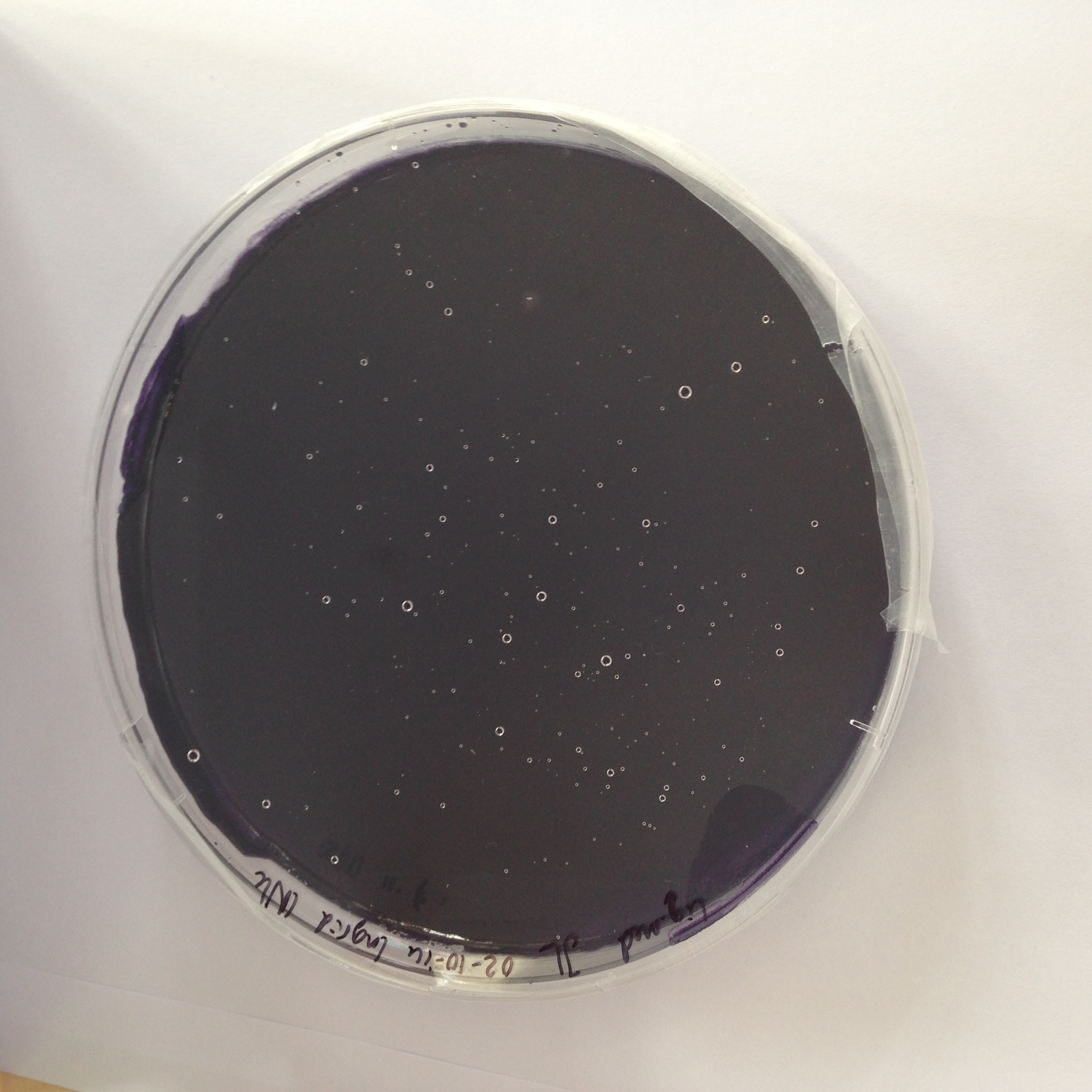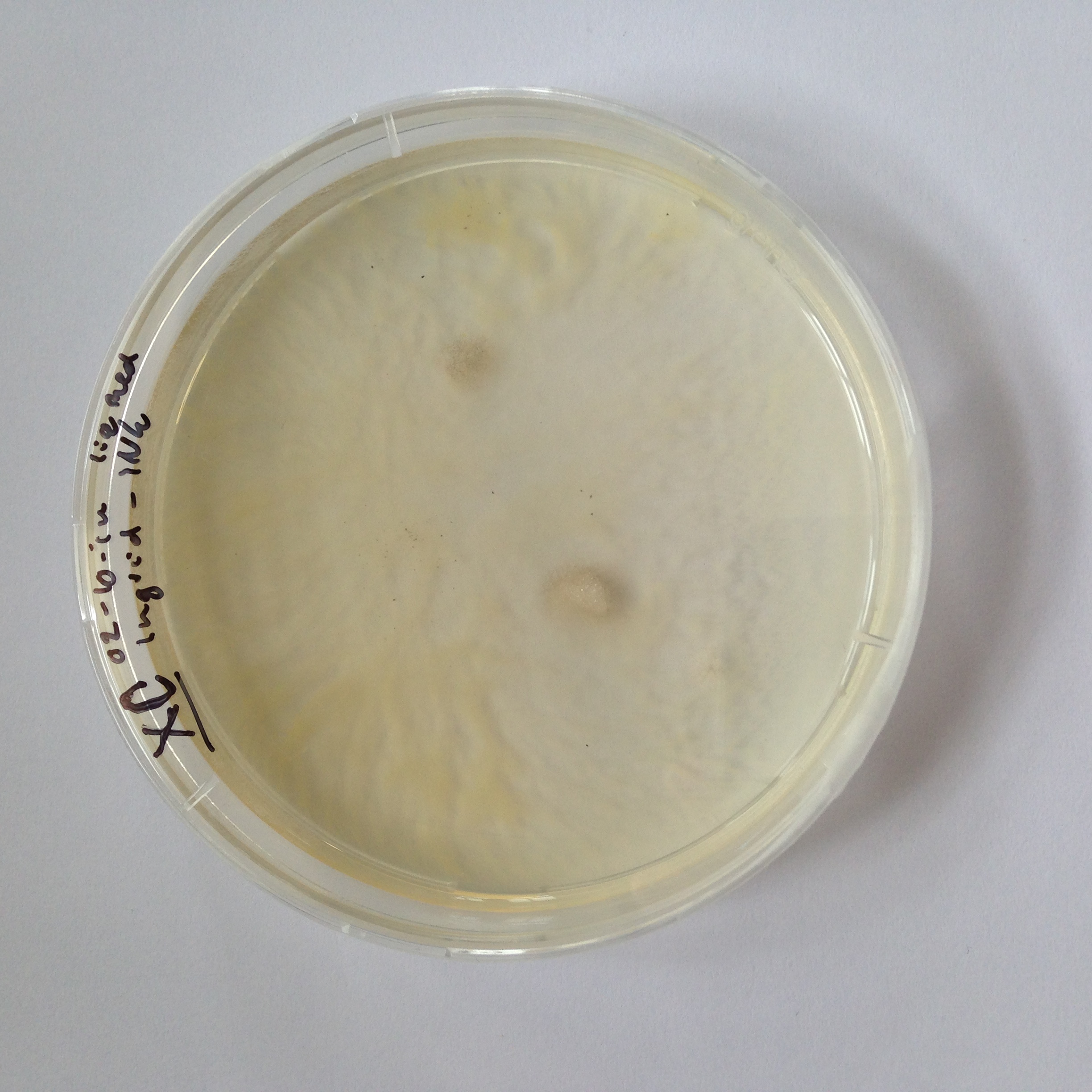 29.09.14 MAKING THE INK
The result of the bottle with liquid nutrition and a heating element on a magnetic mixer.

So this doesn't work well. The bacteria are only living at the surface and creating a biofilm.
Maybe less liquid medium in a bigger plate will help, so the bacteria can get their oxygen at the surface.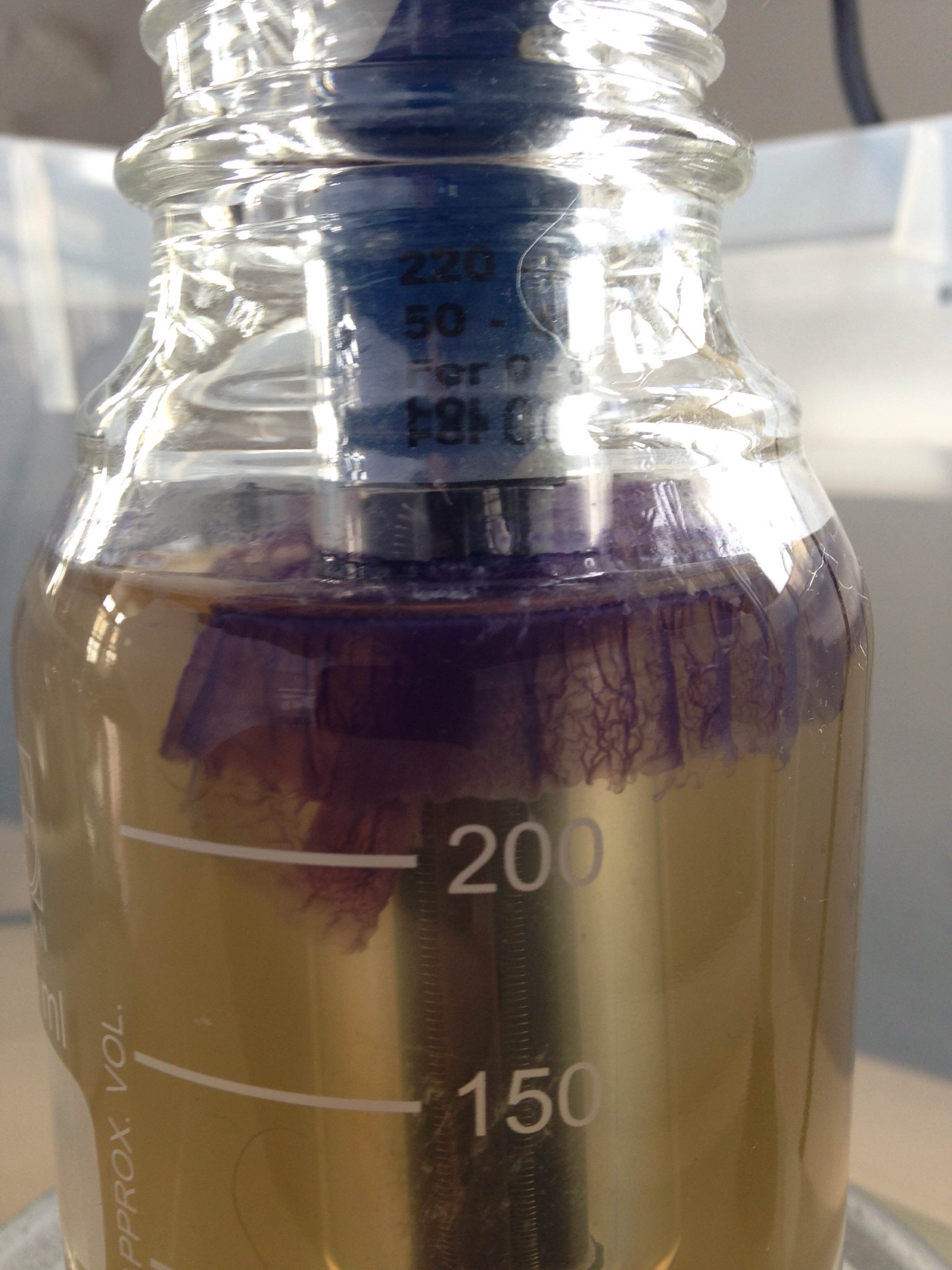 26.09.14 QUESTION
To do - Test 2: What if we grow bacteria in liquid nutrition? We set up a little test with a bottle of liquid medium, a heating element(aquarium) on a magnetism mixer with some purple bacteria.
26.09.14 MAKING THE INK
Finding a way to make the pigments liquid.
Maria and I are trying to solve the bacteria/pigments in different liquids.

Solubility :
Water +
Alcohol 70% +-
Vinegar -
Aceton + - -
The Purple bacteria (Janthinobacterium lividum (JL)) works with almost every liquid, only the other colors don't. Still water with some glass-granules works the best after some shaking.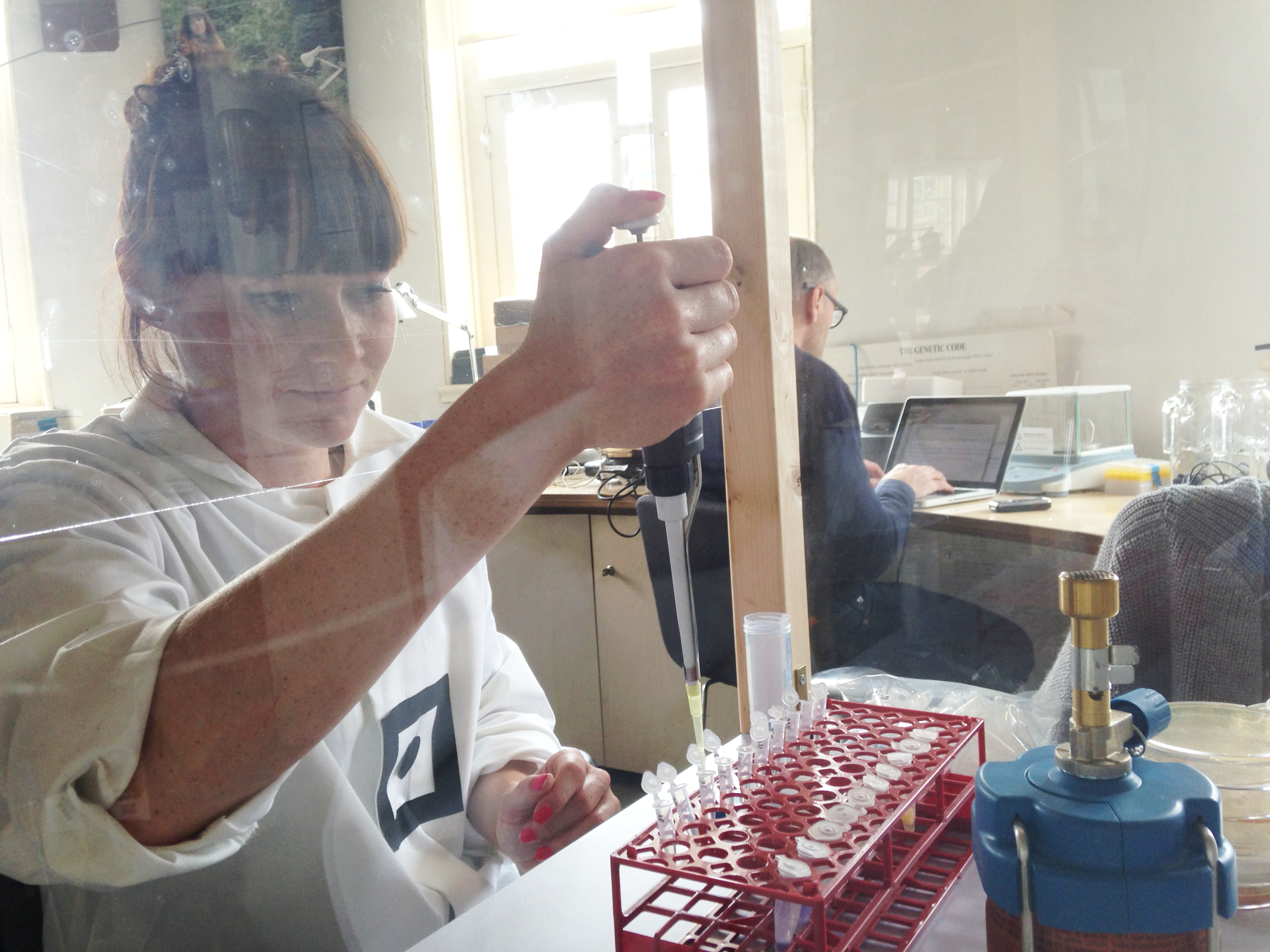 23.09.14 MAKING THE INK

The results after one day :

Maria and i are searching for a way to extract the pigment from the plates and for a growing method in liquid nutrition.

23.09.14 GETTING THE CERTIFICATE !!!
Following the Open Wetlab Safety & Introduction Course.